Ozone Cell (with Enamel Tube)
OEM service water cooling enamel tube for ozone machine
The ozone cell with enamel tube is designed with a 90° angle, stainless steal, and dual water coolers design for a compact ozone generator with a high and stable ozone output. Adjustable The ozone output can be adjusted within 20-100% for more accuracy. We supply enamel ozone generators in 18g, 30g, 40g, 60g, and 80g models.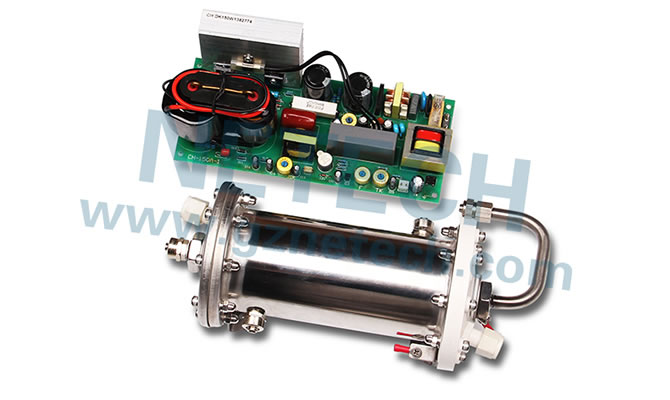 CH-PC18G
Ambient temperature: 32°C
Oxygen concentration: >99%
Dew point: >-45
Cooling water output temperature: 35°C
Functions
1. Clean: destroys bacteria and viruses without secondary pollution in the air, on food, and on textiles.
2. Detoxification: removes residual pesticides from vegetables and fruits.
3. Deodorization: eliminates molds, smoke, and odors.
4. Purification: purifies air and water and increases oxygen levels.
5. Health: clean air and drinking water.
Specifications
Item
Unit
CH-PC18G
CH-PC30G
CH-PC40G
CH-PC60G
CH-PC80G
Ambient temperature
℃
23
23
23.9
23.9
24
Ambient humidity
%
38
38
37
Oxygen flow rate
LPM
1~4
2~8
3~10
5~17
8~20
Ozone concentration
Mg/L
112~78
123~72
123~70
120-72
118-74
Ozone output
G/Hr
6.7-18.7
14.8~34.6
22.1-42
36-73
56-88
Power
Kw
≤0.22
≤0.3
≤0.4
≤0.6
≤0.8
Cooling method
Water cooling for internal & external electrodes
Cooling water flow rate
LPM
≥2
Cooling water temperature
℃
Ambient temperature ± 8 ℃
Diameter of gas inlet/outlet
mm
1. Air inlet & ozone outlet: EDφ8mm
Diameter of water inlet/outlet
EDφ10mm
Adjustable range
%
20-100
Power supply
V/Hz
110/220V 60/50HZ
Fuse
A
3
5
10
Ozone tube dimensions
mm
285*160*125
340*160*125
460*160*125
600*160*125
705*160*125
Power supply dimensions
mm
212*90*95
189*146*95
210*146*62
Ozone tube weight
Kg
2.5
3
3.6
4.9
5.45
Power supply weight
Kg
1
2.4